Another installment on common IPSC problems and their solutions! Here are two related problems that can use a common solution. First off, let's talk about the specific problems, then we'll tackle a solution.
NAT That Won't Hairpin
This is an unfortunate reality. What I'm talking about are NAT devices/software that will not allow two nodes on the private network to communicate with each other through the public WAN IP address. It's commonly called "hairpin" or "hairpinning" and "NAT loopback". I've heard it called "full-cone NAT" in a number amateur circles, but that's actually something completely different. It seems like a strikingly simple function, but there are an alarming number of NATs that won't do it. There are tons of articles on the Internet about this, so I won't explain it again — others have already done a great job. Some folks are dealing with a home router and can just go buy a new one, but sometimes that's not the case — like if you talk your boss into letting you run your ham DMR repeater on the network at work… They're probably not going to throw away a $20,000 firewall just because your ham repeater can't play nicely with it. Here are some good resources to read more about NAT, NAT hairpin, etc.:
How to Hairpin on MikroTik RouterOS (with a description of the problem)
How to Hairpin on Ubiquiti EdgeMax routers (with a description of the problem)
Hairpinning on the Juniper SRX/J series routers
A boatload from Cisco with regard to multiple configurations an their ASA security appliance
Random Port Translations
Here's another unfortunate scenario. IPSC link establishment works by the master repeater gathering a list of IP addresses and UDP port numbers of the peers that connect to it and distributing that list to every peer so that they can all communicate directly with each other. For example, if a peer repeater contacts the master, let's say on IP:port 123.117.116.5:50000, then the master will tell every other repeater in the IPSC to contact it on 123.117.116.5:50000. It will also tell the new repeater the IP:port combinations of every other repeater in the IPSC system. Each peer, in turn tries to contact the others on the IP:port combination in the list received from the master. Those actions "open" state table entries in any firewalls that repeaters sit behind and allow bi-directional communication.
This system only works if the port (50000 in the example above) is either NOT translated, or translated to the same "outside" port for every session the repeater tries to establish. If each time the repeater tries to connect to another peer the source port gets translated to something different then it'll never be able to establish a connection to the other peers — they're all expecting the new repeater on the port the master repeater told them about. To be clear, what I'm talking about is the source port (50000 in this example) being translated to a different public port for each different repeater it attempts to communicate with.
By now you may be asking why on earth this would happen? Since the world has run out of IP address, a lot of ISPs are no longer handing out public IP addresses. This is especially prominent with wireless carriers who not only got into the Internet game late, but also have a huge explosion of devices to connect. Because they are connecting dozens (hundreds?) of customers with a single public IP address, the chances of a contention for a particular port number is considerably higher than when you have one public IP for your home. Many CGNAT (Carrier Grade NAT) systems will randomize ports just to ensure everyone is treated equally (poorly). Another reason is security. Some enterprises with very strict security postures believe that randomly changing source ports adds extra security as it helps obfuscate the program or service that initiated communication. But whatever the reason, random port manipulation is real, and it's not likely to go away.
The Common Thread
In both cases, there is a common thread. Something is disrupting communication at the border of a LAN. The hairpin NAT problem usually manifests when multiple repeaters have to share the the same NAT. The repeaters on same NAT can communicate with the repeaters and/or bridge that is/are NOT on the same NAT, but cannot communicate with the repeaters that are. In the case of random port translation, the repeater in question can communicate with it's master, but other peer relationships never get established. Both have to do with NAT problems, and there's a way (ok, probably several) around it.
The Solution
First off, this solution has a fair amount of overhead and introduces more complexity, so it should only be used if there isn't a way to address the root NAT problem — which would always be a better approach.
The common thread was that we have multiple devices in an IPSC system that are separated with each other by a NAT that for whatever reason, isn't playing nicely. The solution is to use IPSC bridging to ensure that where the IPSC traffic crosses the NAT, there are exactly two peers in the IPSC: A single peer, and a single master. Probably the most obvious method is where we have a bridge in the mix that can just segment all of our repeaters off into multiple IPSC systems where each contains one repeater and the bridge, thereby ensuring there are always only two IPSC devices per IPSC system… Problem solved! Maybe.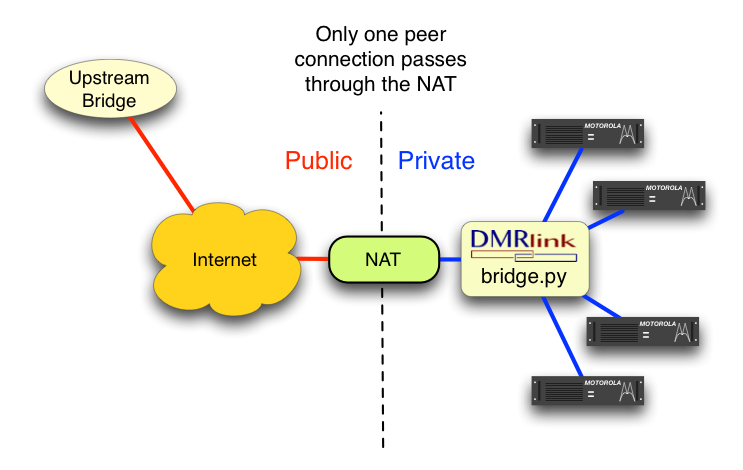 I recently ran into a situation where the bridge being used was a Rayfield/Ravennet c-Bridge, and the owner/operator of the bridge did not have the resources/desire to create the subdivision for several repeaters behind the same NAT that would otherwise be in the same IPSC system. A novel solution was implemented: Use another bridge. In this case we used the free, open source DMRlink and it's bridge.py bridging application. I implemented DMRlink on the LAN (behind the NAT) with all of the repeaters. Next, I connected one instantiation of IPSC on DMRlink to with all of the repeaters. Finally, I created another IPSC with DMRlink that talked to the "upstream" c-Bridge. Now the new connection between DMRlink and the c-Bridge (the one that crossed the NAT) is a 2-device IPSC, and did not have any of the nasty NAT problems anymore. What's better is, the c-Bridge owner/operator was thrilled because we reduced the number of IPSC peers (which is how the c-Bridge software is licensed – read: $$$) by three, since instead of four repeaters (IPSC peers), it now only say one (DMRlink).