Dongle Access is Here!
TriState DMR is excited to announce worldwide remote access with the DV4mini from Wireless Holdings, the DVMEGA using MMDVM, and and the OpenSpot from SharkRF
Our TS1 TG8 Tri State Talkgroup is also available on DMR Plus REF4649. The dongle also allows you to have access to many other popular DMR+ reflectors like USA Nationwide, the USA Regionals (Midwest, Southwest, Northeast, etc), Canada Nationwide, UK, South Pacific and many others.
Instructions for DV4Mini Software Configuration
1.
Download and install Visual C++ 2013
. (both x86 and x64 for 64-bit machines and x86 for 32-bit machines).
2.
Download and install the DV4mini software
3. Follow the screenshots to configure your personal information in the DV4mini software in the DV Control tab.
4. Go to the Expert Settings tab and select you nearest server.
Choose USA-Wisconsin or USA-California!
5. Adjust the DMR - QRG Correction in the Expert Settings tab to show the lowest error rate. Red is high error, Yellow is medium, green is low error. You need to transmit to see the bit error rate (BER) bar. We have seen +150 to +300 Hz be optimal, depending on the type of radio you use.
6. Choose a talkgroup after selecting the TS2 radio button. Then Choose "Connect" on the DV Control tab.
7. Go to TS2 TG9 on your radio for all calls. (This is similar to what D-Star does with the "T" channel profile.)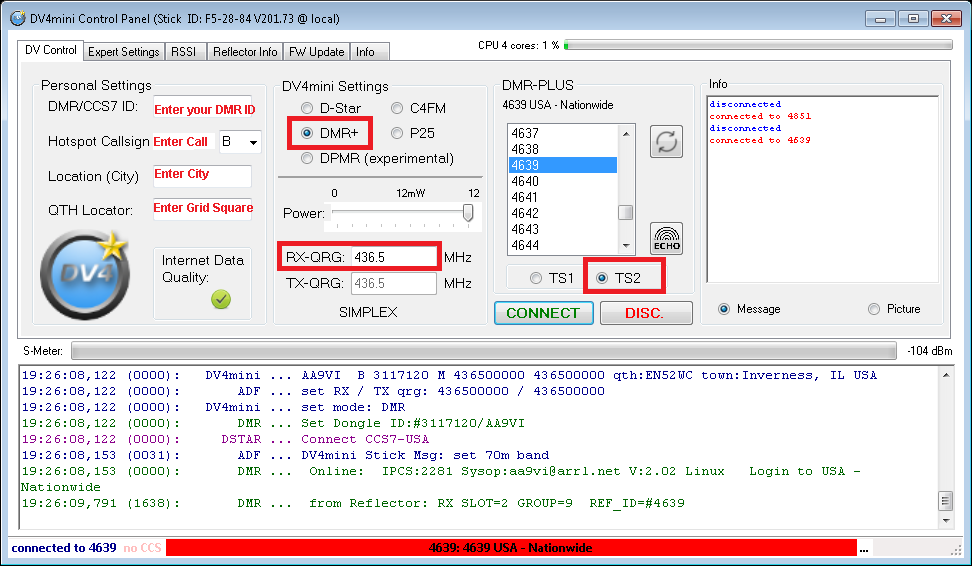 Instructions for DVMega Raspberry Pi Software Configuration
1. Purchase a Raspberry Pi and a DVMEGA
3. Download and install 7zip, SDFormatter, and Win32DiskImager.
4. Insert SD card, wired ethernet, and HDMI cable from monitor into Pi. Power up. You may need a keyboard and mouse also if you don't know how to ssh into the Pi.
5. Follow these helpful instructions. Basically, You will format your SD card first, then extract the contents from your .rar download from the Western D-Star site using 7zip to a a folder on your computer. Then you will use disk imager to copy the extracted .img file to your SD card.
6. Log into your raspberry pi with the username pi and password raspberry. Then open a command prompt to edit the MMDVM.ini file (using the command nano MMDVM.ini) as shown below. Be sure you change YOURCALLSIGN, YOURGRIDSQUARE, and Your7DigitDMRID as indicated in the sample file below.
7. Follow the instructions beginning in Step 7 of this link to create an autostart script whenever your Pi is powered on.

[General]
Callsign=YOURCALLSIGN
Timeout=180
Duplex=0
# ModeHang=10
RFModeHang=10
NetModeHang=3
Display=None
Daemon=0

[Info]
RXFrequency=436500000
TXFrequency=436500000
Power=1
# Positive Latitude is degrees north
Latitude=0.00
# Negative Latitude is degrees west
Longitude=-0.00
Height=1
Location=YOURGRIDSQUARE
Description=DVMEGA
URL=dmr-marc.net

[Log]
# Logging levels, 0=No logging
DisplayLevel=1
FileLevel=1
FilePath=.
FileRoot=MMDVM

[CW Id]
Enable=1
Time=10

[DMR Id Lookup]
File=DMRIds.dat
Time=24

[Modem]
Port=/dev/ttyAMA0
# Port=\\.\COM3
TXInvert=1
RXInvert=0
PTTInvert=0
TXDelay=100
DMRDelay=0
RXLevel=50
TXLevel=50
# CWIdTXLevel=50
# D-StarTXLevel=50
# DMRTXLevel=50
# YSFTXLevel=50
# P25TXLevel=50
OscOffset=0
RSSIMappingFile=RSSI.dat
Debug=1

[UMP]
Enable=0
# Port=\\.\COM4
Port=/dev/ttyACM1

[D-Star]
Enable=0
Module=A
SelfOnly=0

[DMR]
Enable=1
Beacons=0
Id=Your7DigitDMRID
ColorCode=1
SelfOnly=0
# Prefixes=234,235
CallHang=3
TXHang=4

[System Fusion]
Enable=0
#RemoteGateway=0

#[P25]
#Enable=1
#NAC=293

[D-Star Network]
Enable=0
GatewayAddress=127.0.0.1
GatewayPort=20010
LocalPort=20011
Debug=0

[DMR Network]
Enable=1
# Address for East and Midwest USA
Address=67.53.13.50
# Address for West USA and South Pacific
#Address=104.236.174.209
Port=55555
Jitter=300
# Local=3350
Password=PASSWORD
Options=StartRef=4639;RelinkTime=60;UserLink=1
RSSI=0
Slot1=0
Slot2=1
Debug=0

[System Fusion Network]
Enable=0
LocalAddress=127.0.0.1
LocalPort=3200
GwyAddress=127.0.0.1
GwyPort=4200
Debug=0

#[P25 Network]
#Enable=1
#GatewayAddress=127.0.0.1
#GatewayPort=42020
#LocalPort=32010
#Debug=0

[TFT Serial]
# Port=modem
Port=/dev/ttyAMA0
Brightness=50

[HD44780]
Rows=2
Columns=16

# For basic HD44780 displays (4-bit connection)
# rs, strb, d0, d1, d2, d3
Pins=11,10,0,1,2,3

# Device address for I2C
I2CAddress=0x20

# PWM backlight
PWM=0
PWMPin=21
PWMBright=100
PWMDim=16

DisplayClock=1
UTC=0

[Nextion]
# Port=modem
#Port=/dev/ttyAMA0
Brightness=50
DisplayClock=1
UTC=0
IdleBrightness=20

[OLED]
Type=3
Brightness=0
Invert=0

[LCDproc]
Address=localhost
Port=13666
#LocalPort=13667
DimOnIdle=0
DisplayClock=1
UTC=0

						
						
						
Instructions for Shark RF Open Spot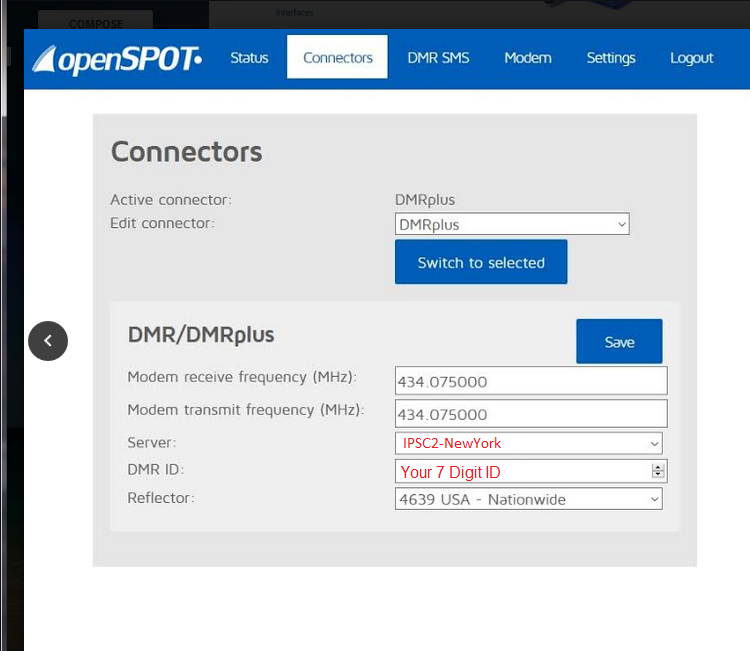 Lots of choices. Hours of fun!
Tether one of these interfaces to a Raspberry Pi for a link back home and to pass the time on a long trip.